Back to news
ZBOSS Open Ini­ti­ati­ve in 2021 – Chan­ging the Zig­bee de­velop­ment land­sca­pe
January 27th, 2022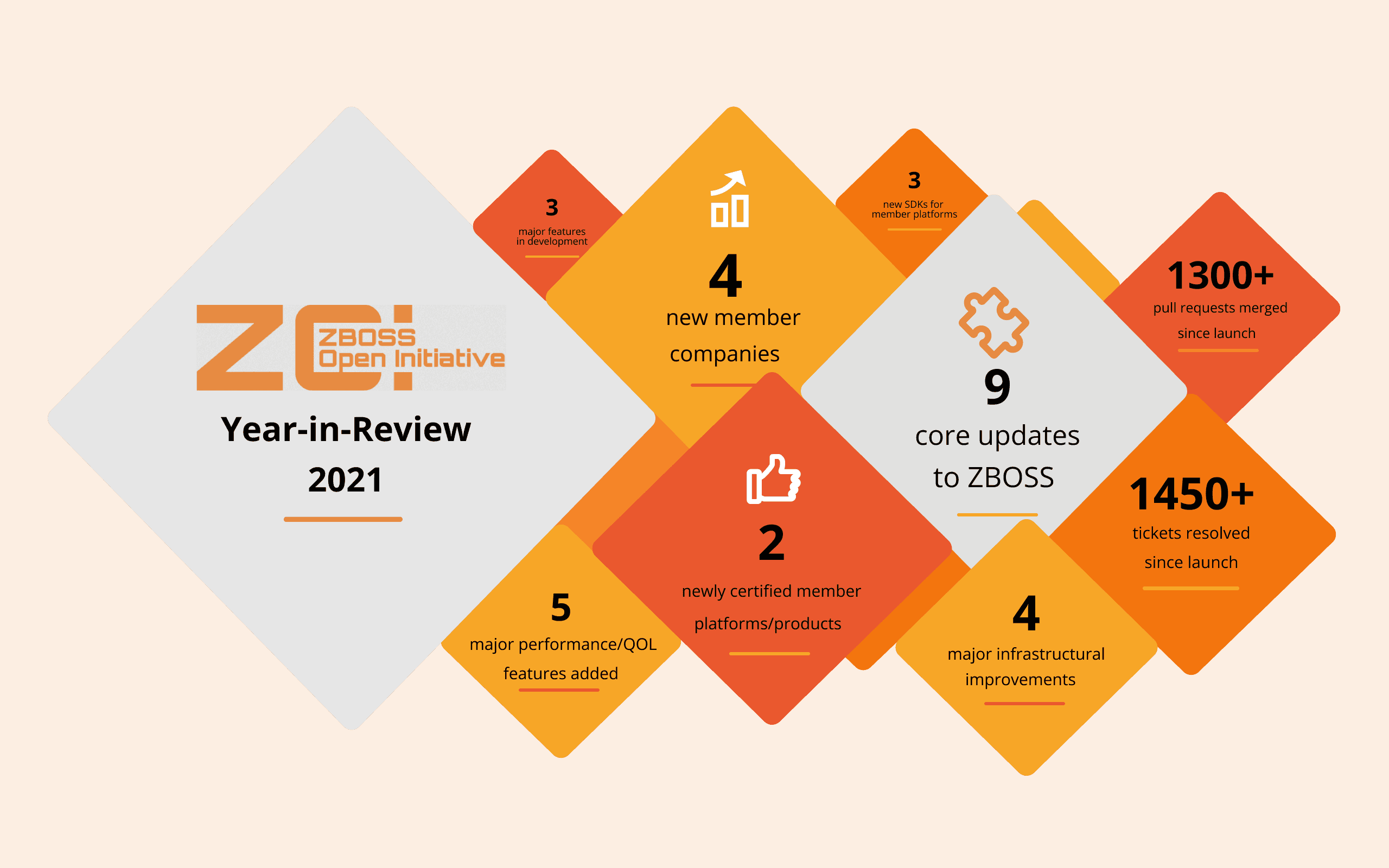 In 2021, ZOI welcomed 4 more world-class companies into the fold. The "member-source" approach to development resolved more than 1450 tickets and mered more than 1300 pull requests related to ZBOSS in the last 2 years, resulting in 9 core ZBOSS updates being released during 2021.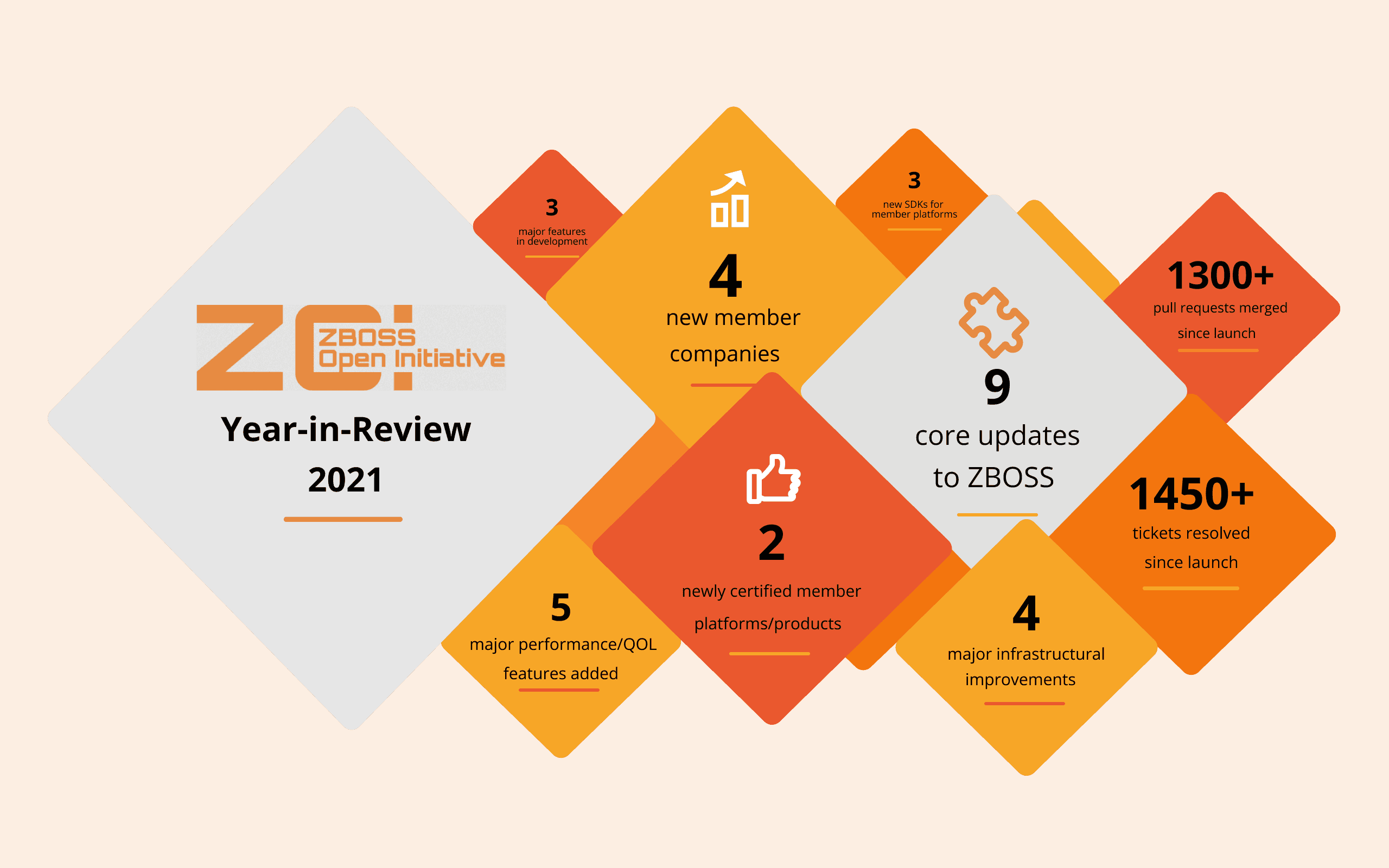 We are very excited about the effectiveness of this approach. Our goal was to create a community that, through collective effort, increased the agility, robustness, and applicability of the ZBOSS stack in the Zigbee space. With the input of our member companies, we were able to make a great number of improvements and adaptations to ZBOSS, such that the stack stayed on the cutting-edge of the Zigbee standard, served our member companies' needs to a greater degree, and is positioned to be first-to-market with a number of in-development Zigbee features.
How ZOI benefits members
Semiconductor manufacturers, consumer products vendors, and other wireless industry players get royalty-free access to ZBOSS, a mature, proven Zigbee PRO wireless stack that is already in use in wireless products all around the world. Furthermore, members get access to in-development versions of the stack, a full suite of development tools, and the ability to influence the direction of the stack's development.
ZBOSS was originally developed by DSR Corporation and has been used to showcase the potential of the Zigbee technology at international trade shows, installations, and real-life applications around the world. DSR ensures the quality of ZBOSS by remaining heavily involved in-, and taking leadership roles in, the international standards bodies around IoT (CSA, ioXt) and through supporting our clients around the world.
ZOI takes the continued development and maintenance of ZBOSS to the next level by involving clients in a direct way and incorporating their feedback, fixes, and needs into the stack.
Going Forward
We are looking forward to bringing more companies into the fold in 2022. While we have already had an influx of semiconductor manufacturers joining in the past two years, we hope that more consumer products vendors will see the value in joining ZOI as access to in-development ZBOSS stacks can allow them to incorporate upcoming Zigbee features before the rest of the field. We see ZOI as a great way for products companies to get ahead of the Zigbee market, regardless of their industry.
With new Zigbee features on the way in the coming year, ZOI companies are in the best position to quickly incorporate these features and bring them to market. Zigbee continues to occupy a dominate position in the wireless space with consumer and commercial adoption increasing. Member input and voting on the direction of the ZBOSS stack means that ZBOSS incorporates features and tools that are needed in the current market, by industry players.
See why world-class wireless players are joining ZOI by visiting our site, and follow DSR on LinkedIn for more important news in 2022!