Back to news
How DSR's Zig­bee Direct Solu­ti­ons Impact Your Users
February 2nd, 2023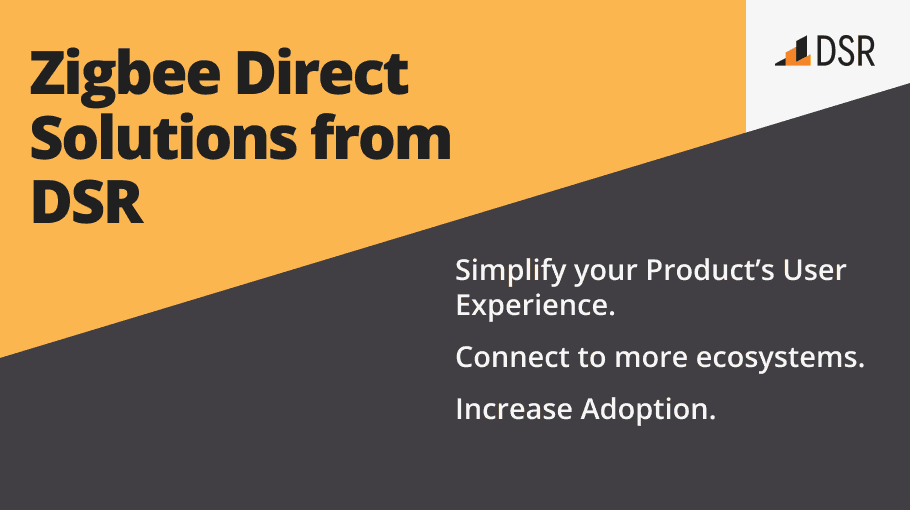 Control Devices 
When DSR implements Zigbee Direct capabilities into your product, you open a new channel of communication that makes interacting with your devices easier than ever. With Zigbee Direct, a user can control and get readings from your Zigbee devices from a Bluetooth interface on a device they already have in their home, including smart phone, tablet, set-top-box or smart speaker. DSR provides SDKs for Zigbee Virtual Device that allows you or app developers to build applications for Linux and Android platforms that enable users to directly send commands to Zigbee products and maintain a Zigbee network from their Bluetooth devices.  Power a smart bulb on or off, get readings from thermostat or control an HVAC system, all from a single Bluetooth-enabled device. Direct Zigbee to Bluetooth communication means that your users no longer need an additional hub or gateway to use your devices. With Zigbee Direct, the user experience is made simple, so your customers can use more of your products, with less hardware and a simplified experience.
Mass Commissioning
Zigbee Direct is a game changer for professional installers working with Zigbee devices and Zigbee networks of any size, whether it is a simple network with few devices or an enterprise-level network supporting many devices, like at commercial and multi-tenant residential buildings. Using DSR's zRemote Commissioning application, installers at can easily add new Zigbee devices to their network from a Bluetooth device, like smart phone or tablet without needing physical access to the device. No longer does an installer need to manually push a button to add a device to the network, especially helpful for devices in hard-to-reach places. Using zRemote, installers can commission more of your products in less time and with reduced complexity previously required. 
Ecosystem Expansion
Direct communication between your Zigbee device and a users' Bluetooth-enabled devices means that a user can control their Zigbee & Bluetooth networks from a single device, like a mobile phone, desktop, smart speaker, gateway or set-top box. With DSR's Zigbee Virtual Device solutions, companies can build user-facing applications for Linux & Android devices that fully enable your Zigbee devices to work in sync with other IoT ecosystems, eliminating additional hardware. Users simply buy and integrate your Zigbee Direct product into their current Bluetooth device ecosystems and manage both from a single interface, without additional hubs or gateways. Increase your Zigbee products' compatibility with other IoT ecosystems by using Zigbee Direct.
Multi-Tenant Buildings
DSR's Zigbee Direct solutions deliver immense benefits to your customers that operate multi-tenant, residential or commercial properties where there are a diverse set of devices and ecosystems in use. Integrating smart home features has proven difficult as tenants and building management are often using a variety of ecosystems and devices that increase choice but often complicate the setup and management. With Zigbee Direct, products such as smart bulbs, sensors and thermometers work directly with tenants' Bluetooth-enabled devices, allowing your customers to operate more connected and efficient properties while their tenants maximize your products' smart home features and choose the devices they want to use. DSR's Zigbee Direct solutions enable a more connected experience, no matter the scale. 
Partner with DSR and our Zigbee Direct solutions to build more connected products and better serve your customers. Simplify the product experience for users, drastically increase your products' connectivity and interoperability and expand into new markets and ecosystems. Learn more at dsr-zoi.com and get started on your Zigbee Direct implementation today.